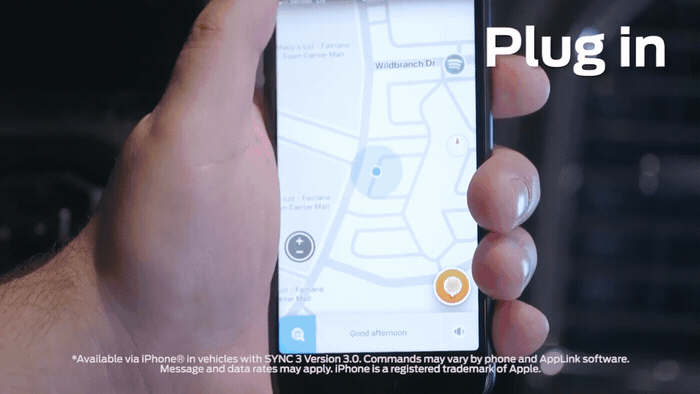 Announcement!
    Waze, is now compatible with SYNC 3 for iPhone users!
    *Waze for iOS is now able to connect to SYNC 3 AppLink.
The partnership bring the world's largest community based traffic and navigation app into the SYNC 3 touchscreen for iPhone user
- HOW TO ACCESS WAZE WITH SYNC 3 APP LINK AND iPHONE
1.Download or update to the latest version of Waze through the App Store
2.Open Waze on your iPhone
3.Disable Apple CarPlay because SYNC AppLink and CarPlay cannot run simultaneously. SYNC 3 will remember this setting and CarPlay will stay disabled until your enable it again.
Go to Settings
> Apple CarPlay Preferences
> Disable
* Note: Apple CarPlay Preferences will only appear in Settings after the first iPhone USB connection.

4.Connect the iPhone to SYNC 3 AppLink by
connecting your iPhone with a USB cable to the vehicle's USB port.
5.Ensure mobile apps are enabled within SYNC 3.
Go to Settings > Mobile Apps > Enable Mobile Apps > On and agree to the terms and conditions.

6.Press "Apps" on the SYNC 3's feature bar and select the Waze tile. You will asked, "Please select a default navigation App." Select the Waze tile. SYNC 3 will remember your preference on future connections.

7.You are now ready to use Waze with SYNC 3 AppLink. Notice that Waze logo has replaced the Navigation arrow on the SYNC3 Feature Bar.
** Note: A factory navigation system is not required to
run Waze in SYNC 3 AppLink.
Hours
Monday

8:30am-7pm

Tuesday

8:30am-7pm

Wednesday

8:30am-7pm

Thursday

8:30am-7pm

Friday

8:30am-5pm

Saturday

8:30am-5pm

Sunday

Closed