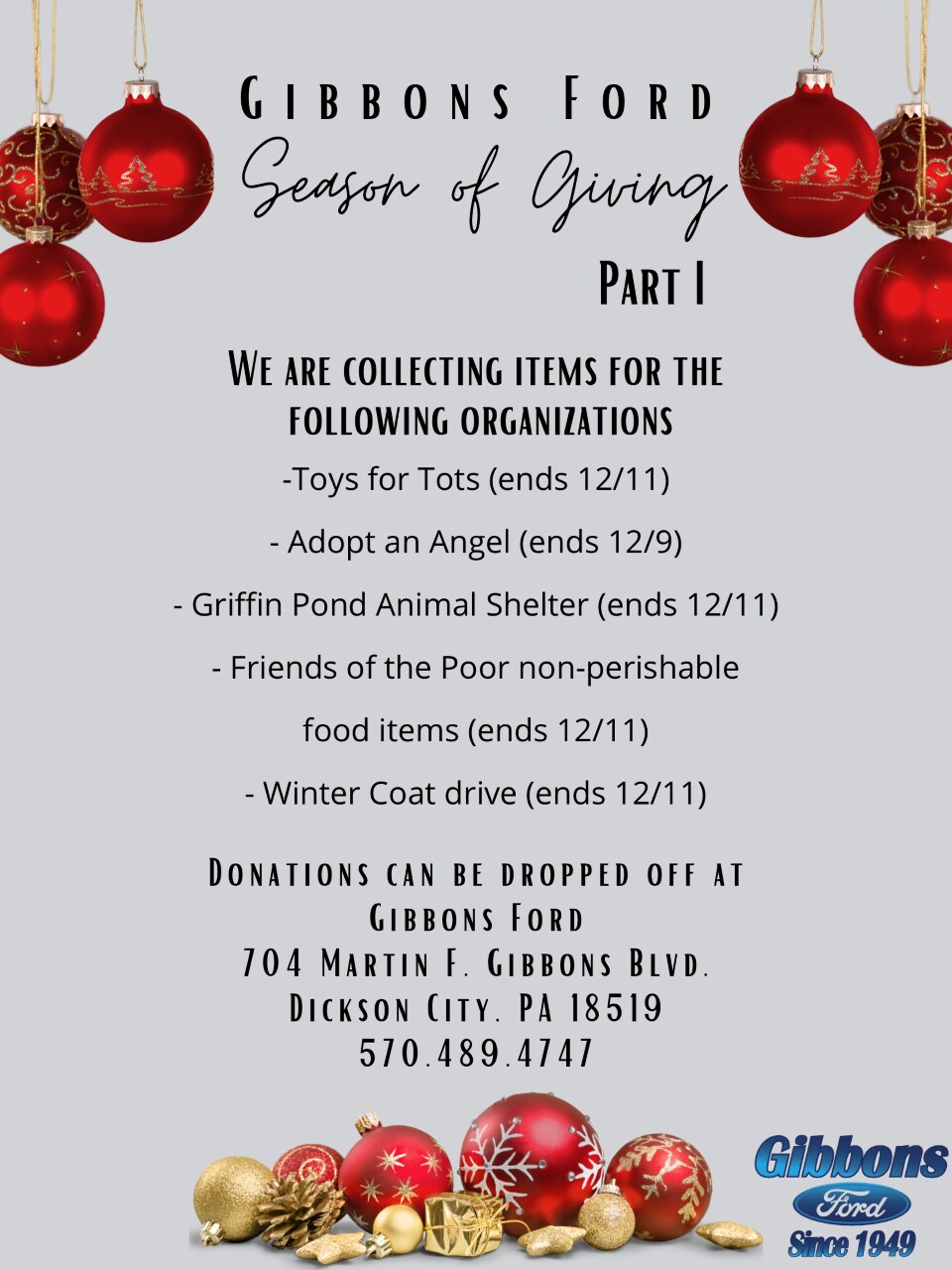 Gibbons Ford - Season of Giving Part I
We are collecting Items for the Following Organizations!
- Toys for Tots (ends 12/11)
- Adopt and Angel (ends 12/9)
- Griffin Pond Animal Shelter (ends 12/11)
- Friends of the Poor non-perishable food items (ends 12/11)
- Winter Coat Drive (ends 12/11)
Donations can be Dropped off at
Gibbons Ford
704 Martin F. Gibbons Blvd.
Dickson City, Pa 18411
(Viewmont Drive - Across from Best Buy) 
Gibbons Ford - Season of Giving Part II
Gibbons Ford will be donating $200 for every vehicle sold! 
Customers may choose where the donation goes from the Following List!
- Women's Resource Center
- Marley's Mission
- St. Joseph's Center
- Boys & Girls Club NEPA
- St. Francis of Assisi Kitchen
Donations will be made for all vehicles sold from Black Friday - December 31st!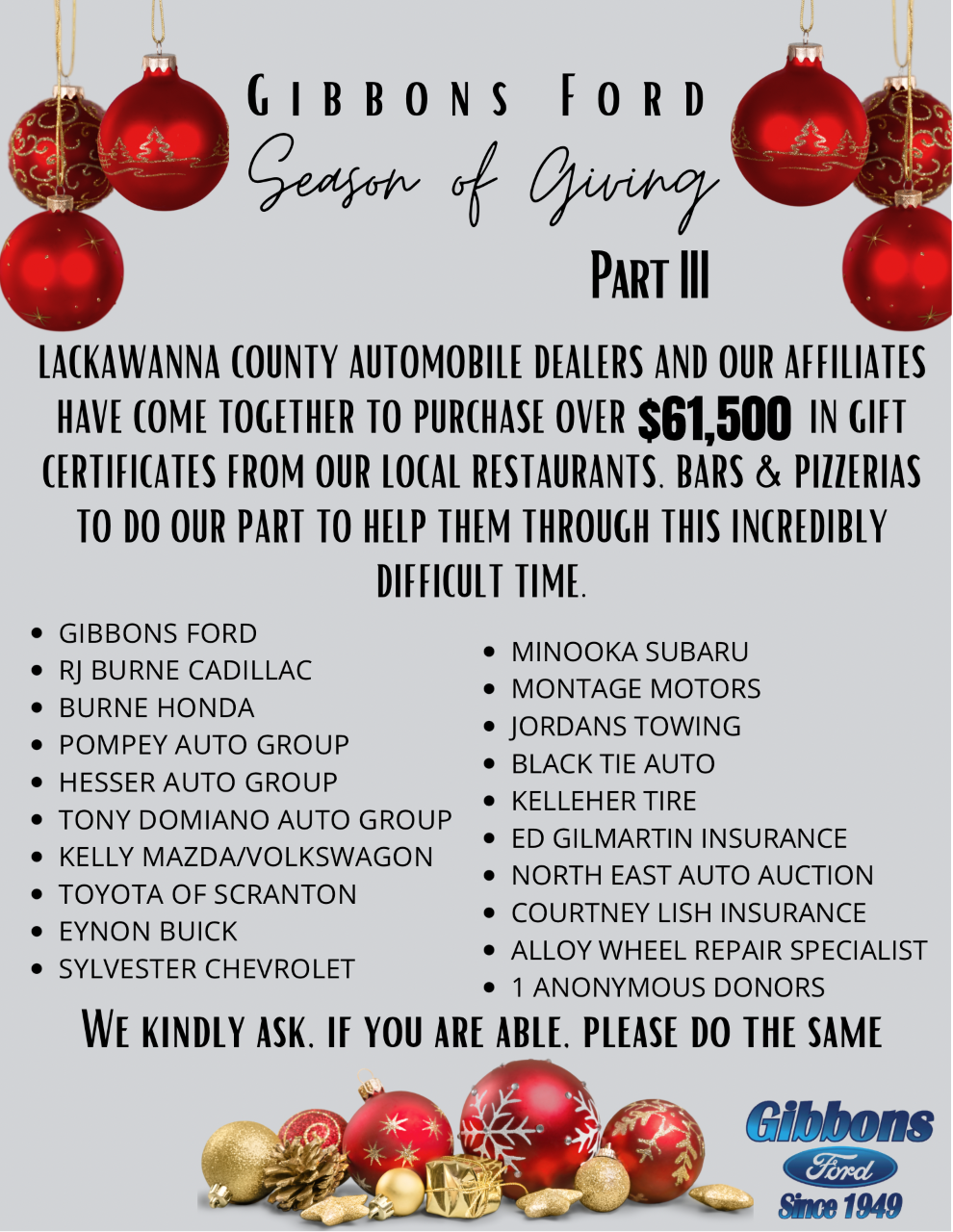 Hours
Monday

8:30AM - 7:00PM

Tuesday

8:30AM - 7:00PM

Wednesday

8:30AM - 7:00PM

Thursday

8:30AM - 7:00PM

Friday

8:30AM - 5:00PM

Saturday

8:30AM - 5:00PM

Sunday

Closed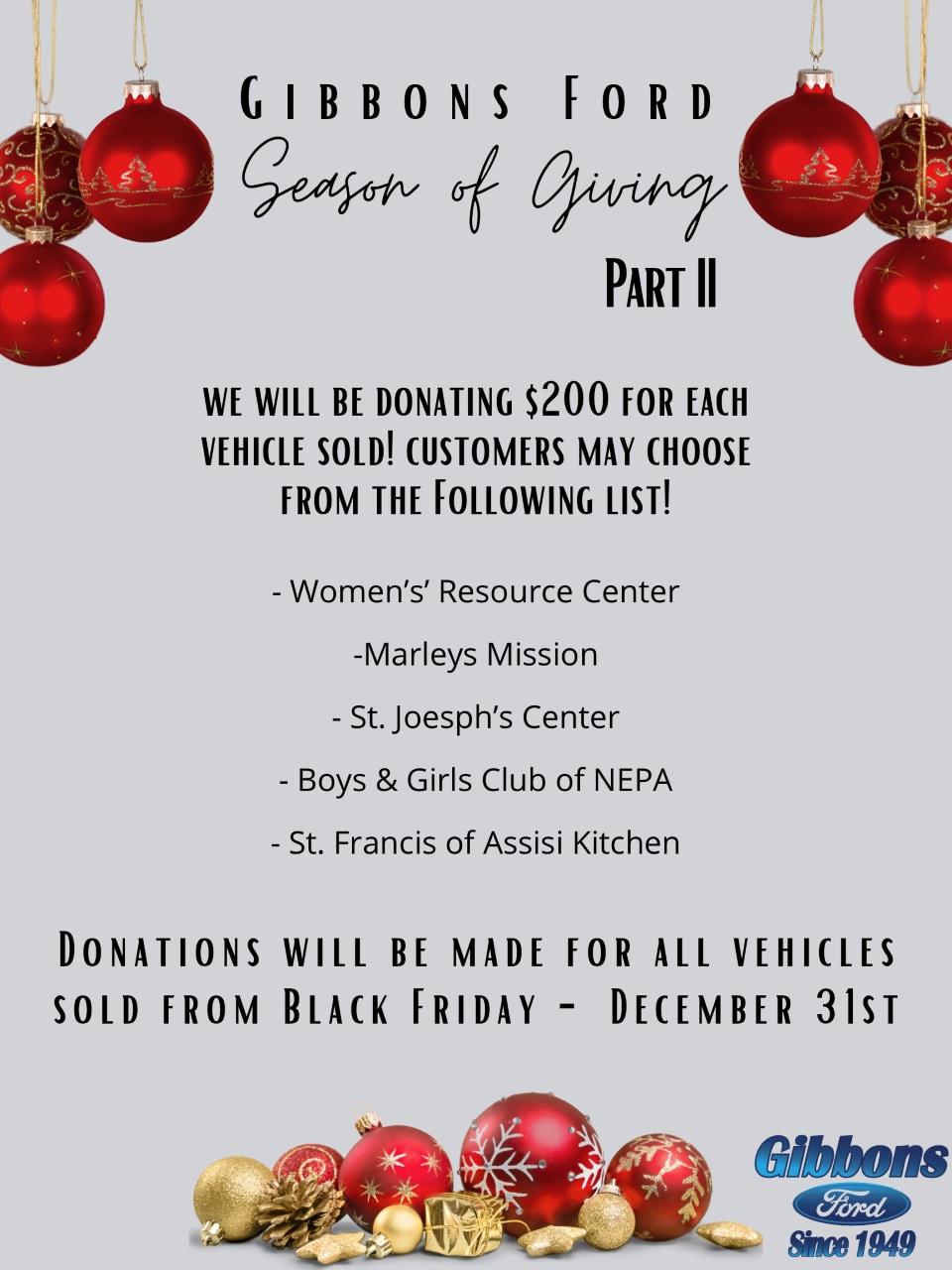 Gibbons Ford Season of Giving Continues ...
Gibbons Ford and Others in the Local Auto Industry 
Come Together to Support Local Restaurants 
Lackawanna County Automobile Dealerships and many of our affiliates have come together, this holiday season, to purchase over $61,500 of gift certificates from our local bars, restaurants, and pizzerias, to do our part to help them during this incredibly difficult time. 
We will distribute the gift certificates to our employees, customers, and those in need, in lieu of Christmas Gatherings to abide by CDC guidelines. We respectfully ask, if you are able, please join with us in supporting local businesses.
Donors include:

Gibbons Ford
Burne Honda 
Pompey Auto Group 
Black Tie Auto
Hesser Auto Group 
Tony Domiano Auto Group 
Kelly Mazda/Volkswagen 
Toyota of Scranton 
Eynon Buick 
RJ Burne Cadillac 
Sylvester Chevrolet 
Minooka Subaru 
Montage Motors 
Jordans Towing 
Kelleher Tire 
Ed Gilmartin Insurance 
North East Auto Auction 
Courtney Lish Insurance 
Alloy Wheel Repair Specialist 
1 Anonymous Donor