---
Gearing up to find brake repair near you? Around Dickson City, Scranton, and Wilkes-Barre, Pennsylvania, you'll find the premier service center to handle anything needed to rework your brakes for improved performance. Visit Gibbons Ford for all your brake repair needs.
On this page, you'll get tips on when to get brakes examined and repaired, what makes them wear out, and much more. Click on the links that answer all your questions.
---
​
When to Repair Brake Pads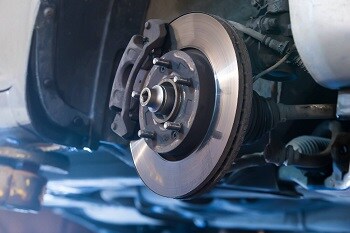 Eventually, your brake pads will wear out, especially if you're out on the road daily. When your odometer reaches 25,000 miles, that's the time to start having them examined.
Many car manufacturers cite 50,000 miles as the best time to get the brake pads replaced. In some cases, you may be able to wait until 75,000 miles, but make sure that you're on track to getting them inspected often. Brakes give you the best protection when you're stopping short when a car approaches or slowing down at a crosswalk.
---
What Makes Brake Pads Wear Out?
Brake pads take on all the impact, so that your rotors stay sharp and in shape. After daily usage, though, the brake pads gradually get thinner due to performance, road conditions, and the way you drive.
Those drivers who speed and then stop abruptly will wear out their brakes at a much faster pace. If you're a Bay-Area commuter, you may be using them frequently when in heavy congestion. Even if you're not engaging in those practices, those who ride in hillier areas will also use the brakes often to descend hills. Brake pads will wear out in those cases.
Before you avoid getting the brake pads replaced because you get into these situations or drive in these areas, stop! Since brakes serve as a vital component in your car, they need to be in good shape. Mark your calendars to get them checked out and talk to our service techs about examining them.
---
Signs You Need Ford Brake Service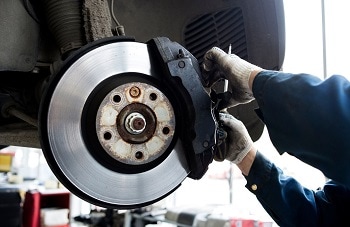 Before we get into the signs that your brakes need work, remember that when your brakes exhibit unusual symptoms you should set up your appointment ASAP.
Symptoms to watch out for include squealing or grinding noises. The former may be due to deteriorating brake pads, while the latter may signal that they're too thin to protect the rotors.
When the brake pedal vibrates, your rotors may be warped and may need to be replaced. If you feel little to no response when you apply your brakes, let us know, and we can check them out.
---
Schedule Brake Repair near Me
If you've found the brake repair near you that you need, you'll be on the right path toward improved performance. Riding around Dickson City, Scranton, and Wilkes-Barre will be a pleasure again when you know your brakes work well.
Schedule your appointment today at Gibbons Ford!
---