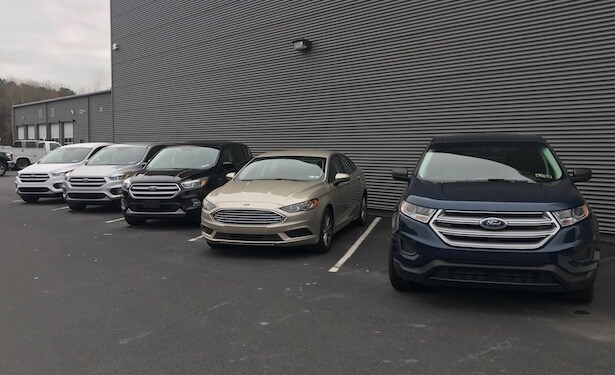 **Our Loaner Vehicle Service is temporarily suspended due to lack of vehicle availability. We apologize for the inconvenience. 
**Shuttle Service is available upon request.
We reserve vehicles exclusively for customers that have purchased their vehicles from Gibbons Ford. We will attempt to accommodate each Gibbons Ford customer with alternate transportation when their vehicle is in our shop for an overnight repair. Loaner vehicles are provided based on availability. 
Gibbons Ford now offers a solution to your transportation needs while your vehicle is being serviced.   Simply request this service while checking in or scheduling your appointment. Our Shuttle Service is available Monday thru  Friday 7:30 to 5:00 and Saturday from 8:30 to 1:30 PM. Just let us know where you want to go and we will accommodate as quickly as possible. This service is typically kept within a 10-15 mile radius of the dealership.
Our Dickson City Ford service center is available at convenient hours for our customers. We know that everyone is busy, which is why our we open early and stay late! Check out our hours below:
Service, Quick Lane, Parts Hours
 Showroom Hours
 

 Monday:         7:00 a.m. - 5:30 p.m.

 

Monday:          8:30 a.m. - 7:00 p.m.

 Tuesday:     

    7:00 a.m. - 5:30 p.m..

 

 Tuesday:         

8:30 a.m. - 7:00 p.m.

 Wednesday:    7:00 a.m. - 5:30 p.m.
 Wednesday:    8:30 a.m. - 7:00 p.m.
 Thursday:

       

7:00 a.m. - 5:30 p.m.
 Thursday:

       

8:30 a.m. - 7:00 p.m.
 Friday:         

   

7:00 a.m. - 5:30 p.m.
 Friday: 

            

8:30 a.m. - 5:00 p.m.
 Saturday:

        8:00 a.m. - 2:00 p.m.

 Saturday:

         

8:30 a.m. - 5:00 p.m.
 Sunday:          Closed
 Sunday:         Closed
Courtesy Vehicles:
Courtesy vehicles are available and supplied by Gibbons Ford for repairs that take longer than expected (typically longer than  24 hours). It is not necessary for you to have purchased your vehicle from us to receive this service. However vehicles must be reserved for customer who have purchased from Gibbons Ford.  We will always to try to place you in a like vehicle to drive. However availability is limited. These vehicles are not from our stock so please don't be confused that the supply is endless.
Requirements:
To use a Gibbons Ford vehicle, there are a few requirements that drivers must meet:
You must be 25 years old, hold a valid PA driver's license, proof of valid auto insurance, and a major credit card.
You must return the vehicle with the same amount of fuel to avoid a re-fuel charge.
You are responsible for fuel, tolls, parking tickets, EZ Pass violations, etc. while in your possession. Use of a Gibbons Ford vehicle will be like operating your own personal vehicle.
In the unfortunate event you have an accident with our vehicle, your personal auto insurance will cover the repairs and you will be responsible for the deductible.
*Gibbons Ford vehicles are only to be used within a 50-mile radius of the dealership and are not permitted out of state.
Process:
When you arrive for your reserved vehicle, we will provide you with a rental form to fill out as well as a loaner policy letter to read and sign. After providing us with your valid driver's license, insurance, and credit card, we will perform a walk around together to verify vehicle condition and fuel level. After all forms are filled out you will be on your way. Expect this process to take 15-20 minutes.
To learn more about how we can help, contact Gibbons Ford by calling us at 888-546-4975.